Pantyhose and UGGs (pics)
Thursday, January 22, 2015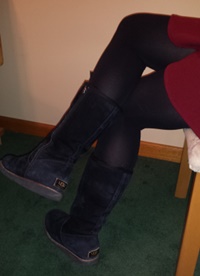 Pantyhose and UGGs (pics)
Two Trendy Things Needed in Every Girls Wardrobe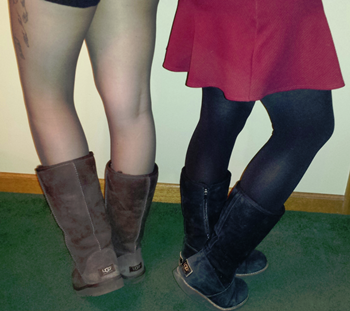 Every woman knows that UGGs are a fashionable trend here to stay. These boots are no friend to pain and suffering. Their spacious design allows for maximum comfort. Refusing to fall victim to fashions shortcoming of sacrificing comfort for beauty, UGGs get a bad rep for giving their users a plain-Jane appearance. But don't worry, panty hose and tights are here to save the day. Due to a fun new fashion trend you can dress your UGGs up by accessorizing them and your outfit with some stylishly, fun panty hose or tights. Hot Legs USA provides every style, color, and size of panty hose possible. Our panty hose and tights will give you a slimming look while helping to hide hairy legs, tattoos, birthmarks, scars and unsightly blemishes- not to mention, keep your legs warm through the UGG wearing season. This is the one accessory which can help you dress your outfit up while allowing you to wear those unbelievably comfortable UGGs and still look GREAT! Dress up. Go out. But stay comfortable with UGGs and panty hose.
Panty Hose and Tights: the Stylishly Comfortable Accessory Every Girl Can Afford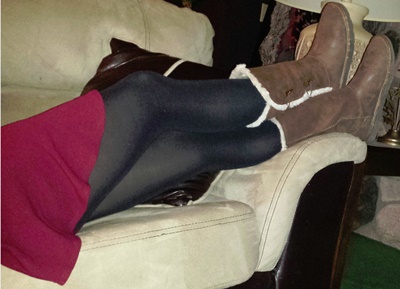 No pain, no gain? No Way! Don't lose comfort at the cost of style and beauty. Hot Legs USA provides you with access to affordable accessories which can perfect any ensemble. With so many different styles, prints, patterns, and colors, Hot Legs USA is offering your wardrobe limitless possibilities at affordable prices. It's no wonder these trendy accessories are making a comeback, with tights and panty hose as low as $3.95. Every stylish, intelligent woman knows you don't have to sacrifice comfort for beauty. If you are still suffering from trying to be a fashionista, let pantyhose and UGGs help you make the switch to a comfortable new you. We all know panty hose are the inexpensive accessory which allows any women an easy way to dress comfortably and maintain a trendy appearance.
Buy trendy pantyhose from Hot Legs USA today- perfect for paring with UGGs and allowing you to stay cute while dressing comfortably.

You Found the Ornament!
Enter HolidaySale2014 at Checkout to Receive 17% OFF Your Entire Order!