Tinker Bell Fairy Costume Guide
Sunday, October 4, 2015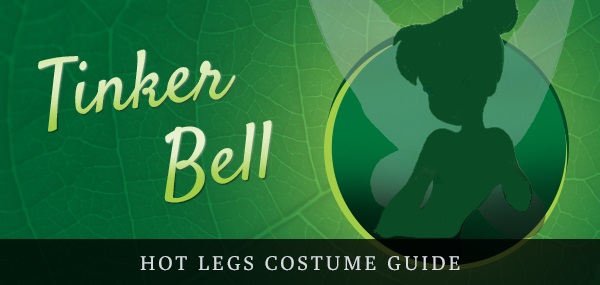 How-To Dress Up like Tinker Bell
1. Hair
Sure, there's no law stipulating Tinkerbell MUST be blonde, but the classic Disney Tinkerbell character is blonde. You can use a temporary dye in your hair, or procure a blonde wig--ideally done up in a bun a la Tink.
2. Dress
You'll need a spring-green dress with a pixie cut about mid-thigh. We recommend finding something at your local thrift store, then customizing it with scissors. Otherwise, a long-ish green T-shirt can be pretty easily modified into a Tinkerbell dress. Just cut a V-shape neck and add a belt made of thick twine to give it some form.
3. Nylons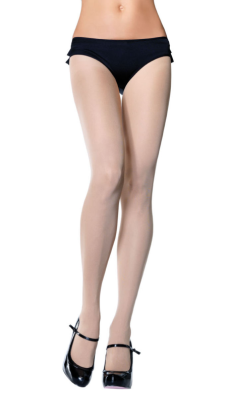 The classic Tinkerbell look requires a skin-toned nylon. Our Casino Wear Tights have a natural skin tone hue that enhances your legs without creating a huge discrepancy between the color of your legs and your arms. If you want to get the look of the Tinkerbell characters at the Disney theme parks, our Nude Opaque Nylon Tights will get you there.
4. Wings
Face it, without fairy wings you'll be a pretty lame Tinkerbell. Fortunately, making a pair of wings is fairly simple and requires only some coat hangers, pliers, ribbon, twine, Modge Podge and a little craftiness. You're just going to undo the wire hangers, reshape them into wings, and cover them with nylons. We like the instructional video below, but suggest instead of using black ribbon, twine and tights, you'll want to get the same materials in white or light green.
5. Shoes
Some old flats will do nicely for this. Trim off any extraneous bows or decorative elements, then spray them with a light coat of green spray paint. After the base coat dries, brush on Modge Podge and sprinkle with green glitter. Work in small sections. After the shoes have dried completely, brush on a finishing coat of Modge Podge to keep the glitter from flaking off. For a finishing touch, use a hot glue gun to attach a white pom-pom on top of each shoe.
6. Ears
If you want to strive for authenticity, you can also pick up a pair of fairy ears to wear out as well.
7. Fairy Wand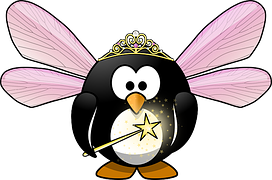 Finding a fairy wand can be as simple as whittling a stick. Paint it gold or leave it natural. Once your costume is complete, be sure to only use your wand for good!
Did you know?
Tinkerbell first appeared in author J. M. Barrie's 1904 play Peter Pan. Described as "a common fairy" who mends pots and kettles and speaks with the sound of a tinkling bell understood only by those who know fairy language. Animated in the 1953 Disney adaptation of Peter Pan, Tinkerbell soon became the very symbol of Disney's magic.

You Found the Ornament!
Enter HolidaySale2014 at Checkout to Receive 17% OFF Your Entire Order!