Stay Warm This Season!
Friday, November 2, 2012
by Jane HotLegsUSA
The autumn leaves have fallen and all of the candy craving children have gone indoors. It's time for cozy fires, turkey, evergreen trees and champagne. Your instinct is to bundle up in a "Snuggie" and eat mashed potatoes, but alas you will have to wander out to work and play. You want to look your best, remaining feminine but not risking freezing to do so. Hot Legs USA has three solutions for you so you can still wear skirts and dresses through the cold season. First, tights are a great way to cover those legs without abandoning your feminine side. Our Leg Avenue Sheer to Waist Tights (LA0992) can be worn under any length skirt or pant and will keep your legs warm. Second, a fashionable way to keep warm and be cute is with a pair of leg warmers. Our Leg Warmers Collection is inspired by leg warmers designed to help dancers keep their muscles warm. Wear these leg warmers with a skirt or over your pants. Either way will create a toasty feeling though out. Finally, a pair of leggings is a great way to wear oversized sweaters as mini-dresses for the cool season. Our Leggings Collection offers a wide variety of footless leggings with lace trim, fish-net styling, and many other options with varying lengths and textures.Show of those legs with leggings or utilize them as an extra layer under pants to stay warm at those fall sporting events.
Leg Avenue Sheer to Waist Tights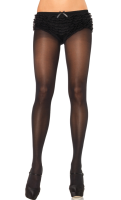 The Leg Avenue Sheer to Waist Tights (LA0992) are supportive making your legs look smooth and toned while energizing your muscles. The sheer to waist feature makes these tights ideal for any length skirt, dress or short. Extend your lighter dress pants into the cold season by wearing these tights under them. You'll be warm, your pants will drape nicely and you'll be able to extend your business-wear throughout the year. Leg Avenue Sheer to Waist Tights are the perfect addition to any wardrobe having to brave the winter months.
Lurex Zebra Legwarmer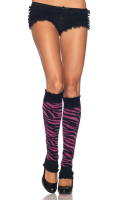 Leg Warmers were created to help keep dancers' leg muscles warm to avoid injuries. Why should dancers be the only ones able to enjoy this cute fashion? Now you can get a wide variety of adorable leg warmers at Hot Legs USA. We have leg warmers with classy button accents, fun stripes and sassy patterns. No matter your taste we have a leg warmer for you. Wear them with your skirt or dress or wear them over a pair of pants or leggings. You'll keep the draft off those sexy legs and keep your muscles warm.
Lurex Leggings with Shimmering Metallic Lurex Threading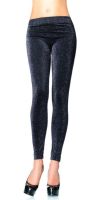 Leggings are a versatile piece needed in any woman's wardrobe. Hot Legs USA has just the right match for your needs. Get a pair of leggings with shimmer threads woven in with our Lurex Leggings with Shimmering Metallic Lurex Threading. These leggings can be worn with a little black dress for a night on the town during the cold months and maintain a beautifully dressed leg. Other legging features by Hot Legs USA include Capri length and lace bottom leggings. No matter what your style, Hot Legs is bound to have the perfect addition to your winter wardrobe.
Worry no longer when it comes to completing your winter outfits to accommodate work and those nights on the town. Hot Legs USA always has a solution! Shop our large selection of affordable pantyhose including our selection of tights and leg warmers. And don't forget about all of our other amazing high quality hosiery, stockings, socks, and more!
Hot Legs USA has all your hosiery needs this winter season from tights and leggings to leg warmers,call Hot Legs USA at 1.855.380.8410 for more information.

You Found the Ornament!
Enter HolidaySale2014 at Checkout to Receive 17% OFF Your Entire Order!