Princess Serenity Costume Guide
Thursday, October 8, 2015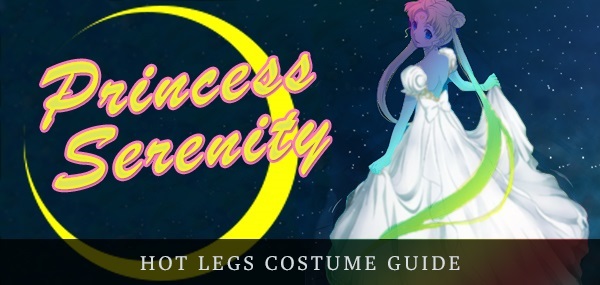 How to Create a Princess Serenity Outfit
1. Empire waist gown.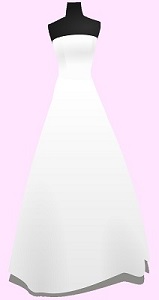 When Sailor Moon transforms into Princess Serenity, she has to look the part of royalty. To gain an ethereal look, use a white Empire waist gown and add layers of sheer fabric to create a train.
Find a premade Princess Serenity dress for a fast costume.
2. Gold bodice.
The very top of the princess's bodice has delicate gold circlets reaching all the way around. Create these rings with gold lace, looping them so each circlet is about the size of your fist. Depending on how much work you want to do, either sew the lace onto your bodice directly or use fabric tape for a one night solution.
Buy gold fabric for your costume now.
3. Tights.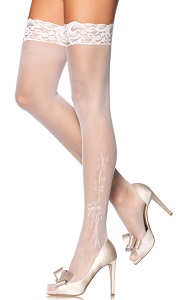 Sailor Moon and her friends all have fabulous legs. While Princess Serenity's legs are mostly hidden by her gown, the flowing material means you might show some leg. Use lace thigh highs under your gown to look like a princess in all circumstances.
4. Bow and wings.
Depending on how powerful you want your princess, wear either a large light-pink bow or pure white wings at the back of your gown, just above your tailbone.
Get angelic wings for your costume now.
5. Footwear.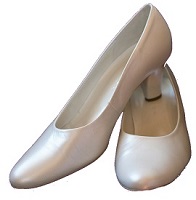 A princess should step lightly, even when fighting evil. Wear a pair of comfortable white slippers or white heels. Just be careful not to trip on your magnificent hem and train!
6. Hair and crown.
Princess Serenity wears her long white hair in two matching pigtails. Find a wig to pull off this moon style and keep it secure with a silver tiara.
Purchase a Princess Serenity wig now!
Sailor Moon Halloween Tights
Transform from a Sailor Scout into a beautiful princess this Halloween with an easy, DIY cosplay tutorial from Hot Legs USA. Pick your planet and grab your baton to fight evil by moonlight and look cute by any light. Rule the Moon with the help of your friends as Princess Serenity from Sailor Moon. Use colorful tights for the rest of the Sailor Scouts as you protect the galaxy this Halloween.
Protect the Earth with your fun Halloween costume from Hot Legs USA. Find other DIY costumes or browse all the Costume Tights and Pantyhose for inspiration now.

You Found the Ornament!
Enter HolidaySale2014 at Checkout to Receive 17% OFF Your Entire Order!