Sandra Dee and Pink Ladies Costume Tutorial
Wednesday, September 30, 2015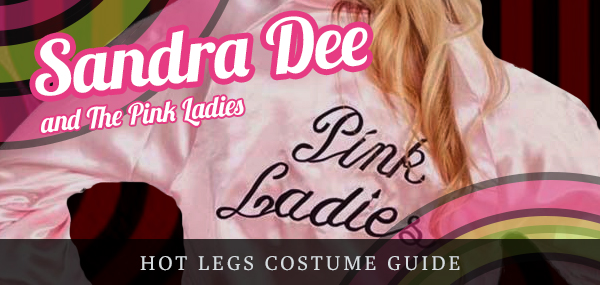 Grease's Sandra Dee Halloween Costume
Pink Ladies' Cosplay How To Costume Guide:
1. Hair:
If you're not already a blonde, pick up a wig. Online discussions seem to agree that spray on color doesn't work and will feel horrid in your hair. A wig is the fastest, most effective and least expensive way to go blonde.
If you are blonde, be look-at-me Sandra Dee with a quick-and-easy ponytail. Add a red ribbon around your elastic for the final touch.
If you prefer to be the "bad girl" version of Sandy, curly haired blonde wigs are also available in just the right style.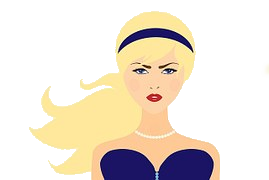 If you don't feel like going blonde, be a Pink Lady instead! The original girl gang is comprised of Rizzo (dark brown hair), Marty (black-ish hair), Frenchie (light red hair, until she accidently dyes it candy pink, which could also be a fun twist) and Jan (light brown hair). This frees you up a bit to incorporate your natural hair into the costume if you prefer. Rock a 50's bouffant or two pigtails. You can be creative here, just make sure you have some volume!
Shop Ebay for inexpensive, spot-on Grease wigs.
2. Outfit Ideas: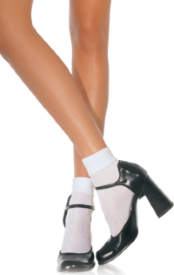 Hot Legs USA is the source for Grease-r basics and costume pieces for sale.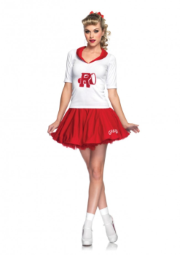 Cheer on Rydell High in our cute and classic cheer costume. This outfit requires very little effort as we have already added the logos, but keep your skirt voluminous with a poof-y petticoat to add authenticity. A pair of footless tights in suntan color will smooth your skin, keep you warm on a chilly evening, and give you that Australian-transfer-student glow. Finish the look with some schoolyard ankle socks.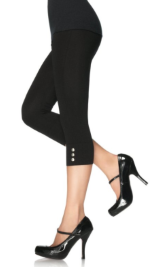 If you are "breaking bad" with this Sandy costume or are invoking a tough Pink Lady, Hot Legs USA has a couple of tight legging options for you. You can wear a pair of tight black capris, or add some sheen with a sparkly pair of full-length leggings of full-length leggings.
Sandy's quintessential black top is skin tight and off the shoulder.
If you want to play a sweet-but-sassy Pink Lady, try our Sock Hop Sweetie Halloween costume. The price is perfect and will work well for whatever Lady Grease character you are aiming for.
If you have a mid-length A-line or a tight pencil skirt, pair that with a plain t-shirt, an eye-catching belt, and top it off with an infamous Pink Ladies' Jacket.
3. Footwear:
If you want the signature red Candies for "Bad Sandy", look no further than ebay, they have a wide range of prices and styles available.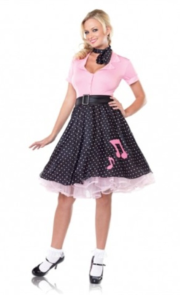 For saddle shoes, try here, they have some funky ones, traditional types, or even saddle shoes with heels for a sexier look. Any pair of white flat sneakers or vintage-y heels will also do well for a Sandra Dee cheerleader or Pink Lady.
Go as a group!
The besy way to make an impact with these costumes would be to go as a group! Gather your favorite fellow party-goers and make a night of it! Whether you're a Sandy, a Frenchy, a Rizzo, Marty or a Jan, I'm sure you know some perfect counter-parts for this nostalgic cosplay. Or grab your Danny Zuko or Kinicke, turn up his shirt sleeves, throw on a leather jacket and don't forget the hair grease!
For more costume ideas, explore our Hot News section!

You Found the Ornament!
Enter HolidaySale2014 at Checkout to Receive 17% OFF Your Entire Order!