Pantyhose for Work: Peavey Pantyhose!
Thursday, July 31, 2014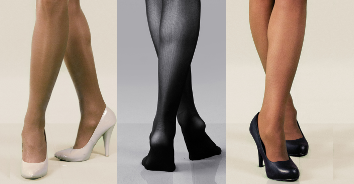 Peavey Pantyhose - a luxe, coveted hosiery brand with excellent wearability.
Shop the very best for work and play!
Pantyhose should be comfortable, long-lasting, and compliment your legs. Hot Legs USA is the number one supplier for great prices on high-end pantyhose – our unbelievable selection of pantyhose brands, colors, and styles is tailored to lots of unique tastes and occasions. For instance, the nylon pantyhose we suggest for the best work wear were originally made for cheerleaders and gymnasts. Thanks to their supreme quality, you'll be comfortable and your legs will look gorgeous all day long! We bring you the best without breaking the bank! When you need affordable, trendy pantyhose, shop none other than Hot Legs USA online.



PEAVEY PANTYHOSE – NYLON HOSIERY FOR EVERY OCCASION!
Hot Legs USA Peavey Pantyhose are made with the utmost attention to quality and craftsmanship. We have the best prices on Peavey, so you get the best pantyhose at the best prices! These high quality pantyhose are coveted by dancers, cheerleaders (we supply one of the NFL teams with pantyhose for their cheer team!), professional ice skaters, and lots of people in other professions who have to be on their feet all day.
Peavey pantyhose provide a snug, breathable fit, keeping you comfy throughout your day. With differing levels of coverage, our Peavey Pantyhose are available in lots of styles and colors. Our most popular Peavey Pantyhose give your legs gorgeous healthy color and shine, ranging from light tan to toast and coffee bean to suit lots of skintones. We have Peavey High Gloss Fashion Tights too, giving your legs gorgeous sparkle and shine! Peavey High Gloss tights are available in neutrals, black, and white – giving you lots of options to keep your legs looking sleek and lovely. And of course, Peavey Suntan Pantyhose are the all-stars of hosiery everywhere: these pantyhose set the standard everywhere for rich suntan color, full coverage, and excellent shine.
The unsurpassed comfort and style of Peavey Pantyhose makes them absolutely perfect for work wear. A touch of luxe is what you need for the best workday style – enjoy it!

You Found the Ornament!
Enter HolidaySale2014 at Checkout to Receive 17% OFF Your Entire Order!