Hot New Leg Avenue Pantyhose: New Summer Styles
Wednesday, June 25, 2014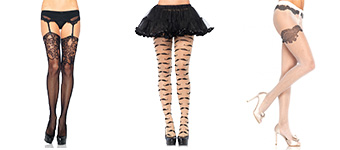 Hot New Hosiery by Leg Avenue!
New Summer Styles from Hot Legs USA!
Hot Legs USA is excited to announce a few of our fabulous new Leg Avenue pantyhose products!!! With so many hot new products coming in, here are three of our current favorites. We've picked out some of the best new offerings from Leg Avenue, and we can't wait to ship them out to you! Our arsenal of pretty pantyhose includes everything from sweet vintage to sophisticated style, and we're excited to share it with you for the lowest prices around!
Tastefully Tailored – a savvy summer collection!
These Sheer White Dot Pantyhose with Black Thigh High Detail are perfectly sweet and give off a vintage vibe! They're super sweet with a little dress, and they are perfect wedding pantyhose.
Sheer white pantyhose give legs a pretty sheen, and delicate woven dots decorate these pretty pantyhose! A black woven faux thigh high adorns the top of these pantyhose. The lacy look is gorgeous peeking out from a skirt, giving these sweet pantyhose another level of style! A lovely woven lace belt sits at the waistline.
These pantyhose are adorable with "something blue", if you're so inclined (we think a blue heel would do the trick)! These Leg Avenue tights are absolutely perfect for weddings. These wedding pantyhose are sheer, breathable, and they're one part of your wedding ensemble you could wear again! These tights are very cute when worn under shorts or with a casual swingy skirt!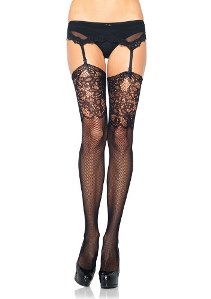 Lovely Luxe - sexy, sumptuous lace & intricate details!
Fishnet Dot Stockings with a Woven Jacquard Top are some of our favorite new thigh highs! These sophisticated thigh high stockings absolutely take the cake. Savvy style meets comfort in these sexy stockings!
The weave of these thigh high pantyhose is made using a soft, strong nylon blend. The fishnet pattern is dotted instead of diamond-shaped, giving these thigh highs a supremely classy style. They wear like insanely expensive French lingerie – but at Hot Legs USA, we charge you $7.49! These elegant thigh highs look amazing peeking out from under a little black dress, and they of course are perfect to complete a lingerie ensemble.
Classic quality craftsmanship and a classically timeless style mean these thigh highs will make your all-time favorites list – but don't take it from us!
Go with the flow – cool summer shades, shapes, and styles!
This is a little taste of the tights we're adding to our catalog! We found so many cool tights to add to our collection, there's something for every angle. Step into a new pair of Leg Avenue pantyhose and make a statement – Hot Legs USA has got you covered!
Patterns are a beautiful part of life, but we're not over the classics… check out our lines of Peavey Pantyhose and Tamara Hosiery too!

You Found the Ornament!
Enter HolidaySale2014 at Checkout to Receive 17% OFF Your Entire Order!