Make Your Sexy Costume Sexier this Halloween Season
Wednesday, September 26, 2012
by Jane HotLegsUSA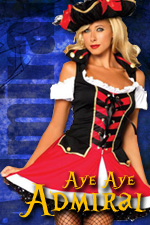 You're invited to the annual Halloween bash and you want to turn all of the attendees' heads upon entering the room. A sexy, sassy costume is the answer. Hot Legs USA has you covered for your sexy Halloween costume and accessory needs.
Sexy Costume Hosiery
Hot Legs USA is one of the largest hosiery merchants in the United States. Like our pantyhose, we carry only the sexiest costumes, making you stand out at your Halloween party. Sexy wonderland sweethearts, naughty pirates and innocent sock-hop dancers are all part of our varied selection of costumes. While our costumes are very sexy right from the box, we can help you take it over the top with our full line of accessories for these costumes.
Fishnet Pantyhose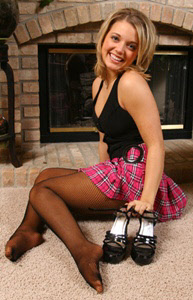 Casino Wear Fishnet Pantyhose added to your Aye Aye Admiral costume are just the touch needed to take this costume over the top. Made from lycra to provide you with the all day support you need and the comfort you want. Also features a small reenforced gusset and swen on elastic waistband. These fantastic fishnet pantyhose will make a great addition to your Halloween Costume or an everyday outfit.
Thigh-High Stockings
Leg Avenue Lycra Sheer Thigh-hi Stockings added to a nurse's costume will leave all the men at the party with a temperature. These same stockings added to an Alice in Wonderland costume will make the queen of hearts blush. Hot Legs USA is the trusted brand for accessorizing women's legs. Trust us to make you "sexy" this Halloween season.
Don't add stress to the holiday seasons with Hot Legs USA you can find the perfect Pantyhose, Hosiery or accessory online now!

You Found the Ornament!
Enter HolidaySale2014 at Checkout to Receive 17% OFF Your Entire Order!