Leg Warmers for Spring
Thursday, April 11, 2013
by Jane HotLegsUSA
Let Hot Legs USA be your one stop shop for leg warmers. If you are ready to pack the blues away with the rest of your winter clothing, then we have the leg warmers for you. Break out your spring and summer wear and layer with dresses, skirts, shorts, tights or over your favorite skinny jeans. Whatever your style is, we have what you need.
Choose from a great variety of bold colors and trendy printed leg warmers to keep your legs and feet cozy during these last cool days before summer. Check out some of our featured leg warmers below and shop our full selection of quality Hosiery online now!
LA3912 – Leg Avenue Leg Warmers with Rhinestones
Like a Warmed Up Cowgirl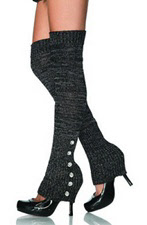 Leg Avenue's leg warmers are sure to make a statement and keep you warm. Add these to any outfit for a glimmer of excitement. These Leg Avenue leg warmers are thigh high and feature ribbed detailing at the top and bottom to keep these snug on your legs.
Order your Leg Avenue leg warmers online or by contacting your Hot Legs USA representative today!
LA3920 – Leg Avenue Lurex Star Leg Warmers
A Star is Born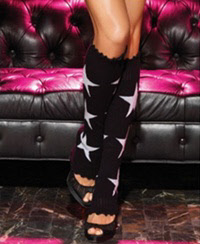 Get noticed and be a star in these fun lurex star printed leg warmers from Leg Avenue. These rest just below the knees and are the perfect way to add extra twinkle to any outfit. Whether you're looking for dance leg warmers or any other occasion, these are sure to make you look like a star. The black with silver star print provides the perfect complement to your legs, featuring a slight ruffle at the tops and bottoms. These look fantastic with heels.
Step into the spotlight! Order your lurex star leg warmers online now or from your Hot Legs USA representative today!
LA3919 – Leg Avenue Lurex Zebra Leg Warmer
On the Wild Side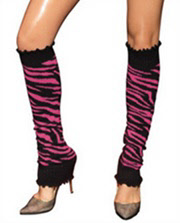 Trust your animal instincts and let these zebra printed Leg Avenue leg warmers make a statement for you. Keeping your stems and feet warm, these leg warmers are a great pair with heels for a night out on the town or if you are just feeling playful. Show your wild side today with black and neon pink zebra stripes. Zebra print leg warmers also add a great contrast to trendy prints or pair with solids. Leg Avenue Lurex Zebra Leg Warmers feature a slight ruffle to the edging, adding a flirty step.
Pounce on these lurex zebra leg warmers by ordering online or contacting your Hot Legs USA representative today!
LA3901 – Leg Avenue Leg Warmers with Button Side
Make it Snappy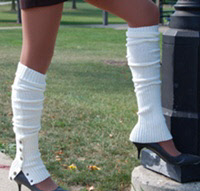 Snap it up with these solid Leg Avenue leg warmers. Choose from black or white and leave a button undone if you dare. Snap up buttons at the bottom make it easy to go over any size or type of footwear. These elastic tops can rest at thigh height or scrunch below the knee for a different look.
Get cozy by ordering your Leg Avenue leg warmers with buttons. Contact your Hot Legs USA representative or start shopping online now!

You Found the Ornament!
Enter HolidaySale2014 at Checkout to Receive 17% OFF Your Entire Order!