Hot Legs USA adds 3 new colors to Peavey High Gloss Tights
Saturday, May 13, 2006
by Jane HotLegsUSA
Hot Legs USA has decided to carry all 8 colors of Peavey High Gloss Tights. The 3 colors added are Coffee Bean, Skintone, & Toast. These colors are in additon to the five colors we currently offer: Black, Light Suntan, Suntan, Theatrical Pink and White.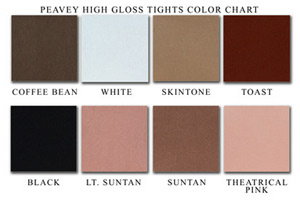 All 8 colors are offered in 5 Sizes: A, B, C, D & QUEEN

You Found the Ornament!
Enter HolidaySale2014 at Checkout to Receive 17% OFF Your Entire Order!