The History of Pantyhose
Tuesday, October 28, 2014
Pantyhose History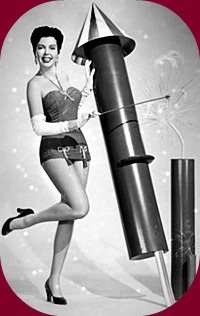 Too bad pantyhose didn't always exist. They were long needed. In the 1920s, skirt lengths shortened. To keep in style, women wore silk or rayon stockings. Wearing them meant crushing yourself into a girdle or garter belt. Nylon stockings were invented in 1938. Most women first saw them being worn by movie stars such as dancer-actress Ann Miller. Women loved nylons, but most couldn't afford them. During World War II, nylon production shifted exclusively to the war effort. After the war, it was back to nylon stockings…and garter belts.
All changed in 1959 when a woman named Ethel Boone Gant became pregnant. She and her husband Allen Gant attended an event in New York City. They were riding home to North Carolina on a train. The couple loved to travel, but Ethel told Allen she couldn't go with him anymore until the baby was born. She had to wear a garter belt to hold up her stockings, but she was getting bigger and was much too proper to be seen in public without stockings. There would be no more travel for a while.
Ethel wasn't one to just let things lay. She sewed together a pair of panties to a pair of nylons. She told her husband to get busy and make something similar. Allen ran a textile company and, with the help of his staff, developed "Panti-legs." Women appreciated the new item, but pantyhose sales weren't particularly strong.
Hemlines Went Way Up and So Did Pantyhose Sales

In the 1960s, the miniskirt came along. The modern design was finalized. Suddenly the demand for pantyhose skyrocketed. The waist used elastic to keep the stockings up. Heavier fabric was used around the tummy and buttocks. The legs and feet were covered with material which was much more sheer. Including spandex in the hosiery made it more comfortable, more affordable and available in many more sizes.
Pantyhose became a necessity, especially for the growing number of women who were entering the workforce. In the 1990s, sales declined with the advent of a more casual workplace and the growing popularity of pants suits.
From Functional to Fashionable

When the modern era hit, pantyhose made a sharp comeback with new colors, patterns and styles. Fishnet hosiery, opaque tights, footless pantyhose and even pantyhose for men were on a huge uptick.
Today, pantyhose are a $1 billion market in the United States alone, but don't worry. Buying pantyhose online at Hot Legs USA costs quite a bit less. In fact, we have the most unbeatable online prices!

You Found the Ornament!
Enter HolidaySale2014 at Checkout to Receive 17% OFF Your Entire Order!