Glam Capri Leggings from Leg Avenue
Tuesday, July 10, 2012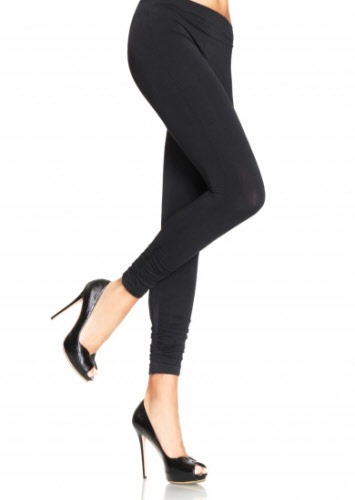 by Jane HotLegsUSA
Seamless Comfort and Sassy Style!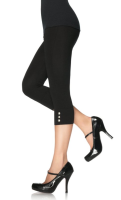 Glamour meets comfort in these sassy Leg Avenue Capri leggings with snaps on the sides! Versatile style is the name of the game when you purchase these cute leggings to dress up and dress down! Wear them with a cute shirt for going out, or a sweatshirt around the house. These Seamless Capri Leggings are perfect for dance classes, workouts, yoga, cheerleading, and chilly nights out on the town with clubwear!
Here at HotLegs USA, we know so many women who are constantly looking for the perfect black legging, slimming leggings, stretch leggings, and leggings with a little extra pizzazz. We found all these qualities in these Seamless Capri Leggings from your favorite pantyhose company, Leg Avenue! Plus, these leggings are comfy and oh so soft. We're bringing you the perfect storm of black leggings, good for every situation you're in. These Capri Snap Leggings are 100% nylon and seamless, giving you a smooth, well-groomed look. When you want your legs to look and feel their very best, HotLegs USA has exactly what you need.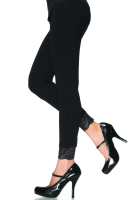 Typically when you're running around all day you thrown on some jeans or sweats, right? Well, no more! HotLegs USA has the perfect deal for the busy woman who wants to release her inner fashionista. Get a pair of these perfectly priced Seamless Capri Leggings, or check out their sister product, Leg Avenue Seamless Lace Trim Leggings! Seamless Lace Trim Leggings are the same basic black legging with a seamless slimming look, featuring a pretty lace trim! For those who want to be sitting pretty with the classic look, HotLegs USA has black Opaque Footless Tights. Our Opaque Footless Tights are a great basic, making it easy for you to add sparkle to your outfit however you want! Speaking of sparkle, you should check out our Shimmering Metallic Lurex leggings. These classic leggings are all great for the activities you do every day, and they're cute enough to suit your extraordinary activities too!
Find other pretty Leg Avenue classics right here on HotLegs USA, like our cute Printed Tights and our smoking hot adult Halloween Costumes! At HotLegs we're always looking for new, fun pantyhose hosiery products to keep you dressed in the best all year long.
Have something you want to see on our website? Questions about products and promotions? Call us at 1.855.380.8410, or contact us online, and don't forget to follow us on our Facebook and Twitter pages to stay up to date and informed about deals and giveaways!

You Found the Ornament!
Enter HolidaySale2014 at Checkout to Receive 17% OFF Your Entire Order!