Dr. Frank N. Furter Halloween Costume Tutorial
Saturday, October 3, 2015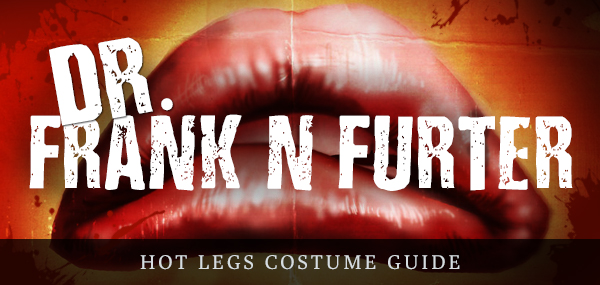 Women's and Men's Fishnet Tights for Rocky Horror Picture Shows
1. Hair
Depending on how you wear your hair now and how dark it is, you may be able to achieve this sweet transvestite's style on your own. Dr. Frank N. Furter's hair isn't short but it isn't long either, it's curly and the style is a bit like your Great Aunt Eunice's. To shave minutes off your costume prep and prevent a time warp, look for a decent wig online.
Here are some inexpensive Dr. Frank N. Furter wigs.
2. Makeup
The fun part of dressing like the mad-scientist is bold makeup applied with a devil-may-care attitude. You don't want to look like the wrong kind of fright, so use some care in application, but don't be intimidated because the look is really quite simple to achieve. Check out this easy makeup tutorial below.
3. Outfit
The iconic outfit of Frank N. Furter is credited as directly influencing the punk music scene during the evolution of the genre. It's no wonder that dressing up for a performance of Rocky Horror Picture Show has continued to be an American pastime since the Waverly in 1976.
Rocky Horror Picture Show Costume Tights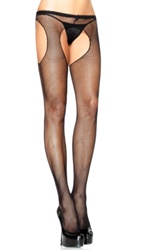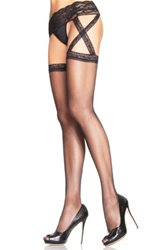 Fishnet Stockings. You have to have a fantastic pair of fishnets to represent Frank. N. Furter. Leg Avenue Fishnet Garterbelt Pantyhose are comfortable for either gender or try Leg Avenue Criss Cross Sheer Garter Belt Stockings, they offers a soft flexible waistband with crisscross garters connecting to thigh-highs, perfect for layering over a pair of short shorts if you don't feel like committing to a Speedo-like garment. Rip them up for authenticity.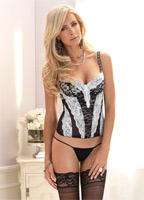 A Bustier or Corset. Hot Legs USA has a soft and comfortable lace bustier that is well-suited to Frank. N. Furter's look.
There are also men's lace-up vests available online as well.
Dr. Frank N. Furter is also a great cool weather costume because you can top it off with either a leather jacket or a long black cape (you know, whichever you have lying around).
4. Details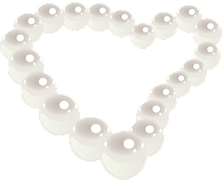 Must-have accessories for this outfit include: a pair of sparkly fingerless gloves, a large set of pearls and don't forget a temporary tattoo of a human heart with the word 'Boss' emblazoned above it on your bicep. You can draw it on or buy one all ready to go.
5. Footwear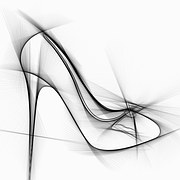 Platform heels are the way to go, but you could probably get away with some lace-up boots if you can't hack it.
Find the right-sized heels with the perfect amount of sparkle.
Whatever Happened to Saturday Night?
Invoke the Transylvanian-alien-mad-scientist with panache and pizzazz. Whether you are headed to watch the movie with a gang of misfits or want to strut your stuff this Halloween or Comic Con, Hot Legs USA has the proper pantyhose for men and women. We also carry the most perfect pair of gold shorts if you are pairing up with your own Rocky for your night on the town.

You Found the Ornament!
Enter HolidaySale2014 at Checkout to Receive 17% OFF Your Entire Order!