Fishnet Fashion 2017
Monday, April 3, 2017
Fishnet Trends Are Back And Here To Stay!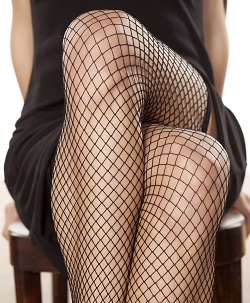 You're in luck, Hot Legs USA has a huge selection of fishnet tights to choose from. Fishnets for women, men, little girls, for the bedroom or for a fun night out, get your fishnets for less from Hot Legs USA. Fishnets are one of those wardrobe accessories that is often pondered about. More often than not, people question whether they can pull them off, or whether they are appropriate to wear. Well Hot Legs USA is here to tell you YES! These classic tights have made a major comeback this year and are more versatile and hotter than ever! Fishnets are far more interesting than the traditional opaque black tights people love to wear and pair well with almost any attire day or night.
5 Ways to Wear Fishnets
Wear your new fishnets under your favorite little black dress to add some sass to your class.
Wear a pair of white fishnets with your favorite pair of socks and oversized sports apparel.
For those chilly spring days wear your favorite fishnets with some cropped jeans and pumps.
For your next night out, wear fishnets with some shorts and wedges for a look that'll turn heads.
Whether it's under the holes in your jeans or at the hem of your pants let your fishnets "peak" out from under. (Pair with a fun animal print for added flare!)
Get your fishnets from Hot Legs USA today! With fishnet tights starting at just $3.99, you can get a pair for every day of the week! We have a variety of fishnets to choose from including fishnet body stockings for those extra special nights where clothing just doesn't make sense.








You Found the Ornament!
Enter HolidaySale2014 at Checkout to Receive 17% OFF Your Entire Order!