Dorothy Costume Guide
Friday, October 9, 2015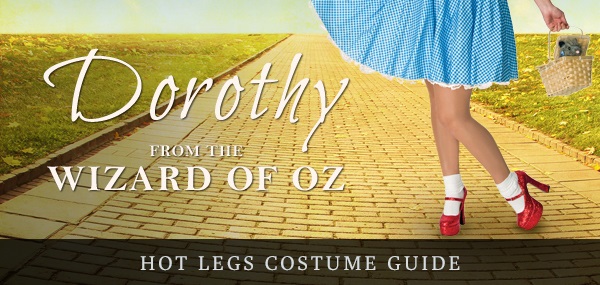 How to Make a Dorothy Gale Outfit
1. Blue gingham dress.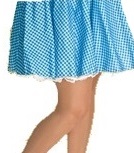 Dorothy's famous dress is made of gingham in blue with light pink (often mistaken for being white). Either version will do for portraying your trip over the rainbow. If you want to be really authentic, you can sew your own dress in the pinafore style to match Dorothy exactly. Otherwise, a sun dress will do.
Purchase a perfect Dorothy dress now.
2. White blouse.
Wear a short sleeve, button-up blouse under your gingham dress. Dorothy keeps her blouse buttoned up all the way, so do the same to really look like a Kansas farm girl. You can take any nice blouse from your closet for a DIY approach.
3. Ruby red or sterling silver slippers.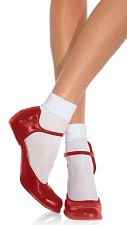 Here's where choices can be interesting. While Dorothy wears the famous ruby slippers in MGM's movie, the book has Dorothy wearing silver shoes. Ruby is recommended as it really pops compared to the silver, especially with liberal amounts of glitter and sequins. Wear a pair of white ankle socks so the red really stands out.
4. Basket.
What makes this costume perfect for Halloween is the basket. Collect candy or simply hold Toto with a simple brown woven basket.
Find a nice wicker basket to match Dorothy's now!
5. Hair and makeup.
For most of the movie, Dorothy has her brown hair in two partially braided pigtails. Finding an already styled wig should be easy. Just make sure to tie off both braids with blue ribbon. As for makeup, try to find red lipstick to match your ruby slippers.
Dorothy Gale from the Wizard of Oz Costume Socks
There's no place like home, except an awesome Halloween party. Create a simple Dorothy costume inspired by The Wizard of Oz. Impress lions and tigers and bears with your fun outfit. You can sing and dance all the way to Emerald City in this bright and colorful costume. Or, if you want a really special costume, wear the sepia-toned version of Dorothy's costume instead!
How to Make a Dorothy Gale Sepia Outfit
1. Tan gingham dress.
Instead of the classic blue, find a similarly patterned gingham dress in tan to look like sepia. The longer your dress, the less skin you'll have to paint later!
2. White blouse.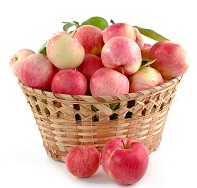 Under your gingham dress, wear a regular white blouse just like the regular version of the costume. Button it up all the way to hide as much of your skin as possible to keep up the sepia illusion.
3. Ruby shoes.
This is where the magic happens. Keep the signature ruby slippers to contrast the rest of your sepia outfit. Wear white socks to let the slippers pop even more.
4. Sepia face paint and makeup.
Use white or light tan face and body paint to make your exposed skin sepia in color. Cover your arms and legs first, then carefully apply to your face, avoiding the eye area. Fortunately, Dorothy's brown hair is mostly unchanged in sepia, so you can use the same wig as a regular Dorothy costume, just add some baby powder to lighten the color (and smell great!).
Get face paint for your sepia costume now.
Enjoy your unique Halloween costume from Hot Legs USA. For more creative costume ideas, check out some easy tutorials or view the Costume Tights & Pantyhose.

You Found the Ornament!
Enter HolidaySale2014 at Checkout to Receive 17% OFF Your Entire Order!