Circus Couple Costume
Sunday, October 11, 2015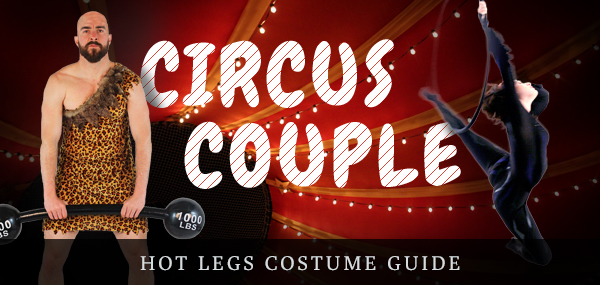 Strongman & Acrobat
This is a really fun idea for a couple's costume that will have huge visual impact but is really very easy to pull off.
Starting with the Strongman character:
1. Costume Tights –

Even if you are very confident in your legs, this costume requires a good pair of professional costume tights to get the right look of the vintage strongman and to keep you warm and comfortable the whole night through. This pair of tights have the perfect high-gloss look and are footless for added comfort. Cut specifically for men means you won't have any unnecessary scrunching where you don't want it.
2. Leotard –
A wrestling singlet works beautifully as strongman outfit, but you could also wear a pair of shorts or a Tarzan outfit as shown. Wear whatever you like to emphasize and show off your massive muscles.
3. Shoes –
Wear a classic pair of lace up wrestling boots for true authenticity. Red is a standard choice but these boots come in many different and equally appropriate colors.
4. Details –
• Accessorize this powerful outfit with a handlebar mustache. Either train yours into shape with a bit of wax, or pick up a fake mustache, no shaving required.
• Bring along your 1000 pound dumbbell so everyone will know the feats of strength you are capable of. Just don't drop it!
For the Acrobat character:
1. Costume Tights –
These large polka dot pantyhose are the perfect accessory for a showy outfit. The black and white is the perfect base for a larger color scheme.
2. Leotard –
Find a crazy leotard that suits you. It can be any color and length, but make sure to show some leg. The more sparkles and spangles the better. This is not a costume for a shying violet. Think color, think glitter, and think form-fitting.
3. Wild Shoes –
This is where your outfit walks the tightrope between costume and performance. We've never seen too many acrobats wearing high heels as they traverse the open air, but you will want something on your feet. If you don't like high heels, ballet flats probably make this outfit look even more authentic. To really make your outfit pop and your legs look miles long, pick up a pair of fun, loud high heels.
4. Details –
• Colorful Wig: This costume is the perfect excuse to wear a wig, although it is not necessary. Colors add extra pop and pizazz. Stick with the color theme of your leotard or go rainbow or completely contrasting.
• Eyelashes: Draw attention to your eyes and face with some wild and crazy eyelashes. The longer and more ridiculous the better.
• Opera Length Gloves: This is a fun (and warm) addition to your costume. Hitch them straight up to your elbow for added shine and substance.
5. Makeup –
The makeup for this costume is colorful, over the top, and so fun. Check out these tutorials below for some fun ideas, then make it your own! More gems! More sparkles! More color!

You Found the Ornament!
Enter HolidaySale2014 at Checkout to Receive 17% OFF Your Entire Order!