Candy Corn Costume Guide
Tuesday, October 6, 2015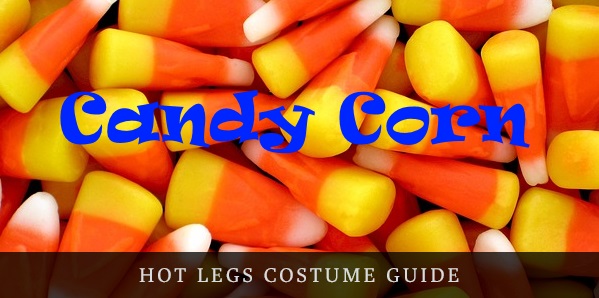 How to Make a Candy Corn Costume
1.
White shirt or dress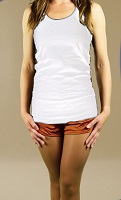 Start off with a white shirt as the base of your DIY Candy Corn outfit. We suggest either a tunic length T-shirt or even going one size up, as the extra material will give you a custom outfit. For a flirtier look, use a white sundress as the base of your costume instead. 100% cotton shirts and dresses are easier to dye than poly blends, so keep this in mind while buying your base if you plan to paint your candy corn costume.
2.
Coloring Options

Candy corn is colored white, orange, and then yellow. Since the T-shirt is already white, you only have to get two other colors on it: yellow and orange. You have several options for completing your costume: paint, duct tape, or layering.

To get the colors on your shirt, we recommend paint or dye specifically for fabrics. Lay the shirt on a table protected by a plastic cover, squeeze the dye onto the t-shirt (yellow paint on the bottom of the shirt, a band of orange paint above that, then leave the rest of the shirt white. When applying the color, squeeze out the paint across the shirt horizontally, then smooth it across the fabric with a paint brush. Be sure to blend the yellow and orange colors so the transition from one to the other isn't abrupt.

When you're done painting the shirt, cover it with a plastic sheet for 6 – 8 hours, then rinse under cold water until the water is completely clear. This will set the colors.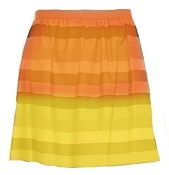 To avoid the hassle of paint, all you need to do it get creative with layering. Try wearing an orange skirt over a yellow one for a flirtatiously flouncy candy corn dress. Or try a pair of gold Dolfin shorts and an orange tube top, belt, or sash. The best part of layering is you can create most of your costume from the clothes already in your closet! You have complete control over how much skin you show and save money.
For the ultimate DIY costume, just grab a few rolls of duct tape in yellow and orange and your white shirt or dress. Start with orange tape under the shirt's sleeves and wrap the tape all the way down to your waist. At this point, switch to the yellow duct tape and continue wrapping until all white dress or shirt material is covered. If you want a really custom fit, add the tape after you've already put on the shirt.
3.
White hat

To convey the right shape of candy corn, a triangular-shaped hat will work wonders. The easiest way to accomplish this is by rolling a piece of white poster paper into a cone shape. Hold down the edges until you get the cap to where it fits snugly on your head. Then hot glue or tape the overlapping edges, remove the masking tape, and trim any excess paper so you have a perfectly shaped cone. If you're more worried about the chilly weather, wear a regular white knit cap instead.
4.
White tights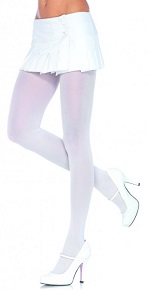 Tie your entire outfit together with white stockings and white sneakers, as this will make the candy corn colors really stand out. Leg Avenue white tights from Hot Legs USA will work well for trick-or-treating while a pair of black tights are great for parties.
Candy Corn Halloween Pantyhose
Show everyone how sweet you are by dressing up as candy corn this Halloween. This cute costume can be worn for trick-or-treating or a night on the town. You won't break the bank with this simple, DIY costume either. You can use your own clothes and style to make your candy corn outfit.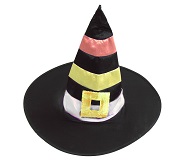 To mix things up, try combining the Candy Corn Guide with the Hot Legs USA Witch Costume Guide for a delicious and vicious costume. Recently, the Candy Corn Witch costume has become a great way to combine two traditional Halloween costumes into something a little more special.

You Found the Ornament!
Enter HolidaySale2014 at Checkout to Receive 17% OFF Your Entire Order!