BOGO: Leg Avenue Thong Back Panty Pantyhose
Thursday, November 18, 2010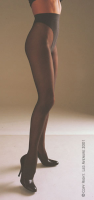 For a limited time only, while supplies last, add one of these must have lycra sheer pantyhose to your Hot Legs USA cart and receive a second pair when they ship for FREE. These buy one get one pantyhose are selling fast, so get your free Leg Avenue pantyhose while supplies last.
These Leg Avenue Lycra Sheer Pantyhose offer a built in thong back panty. These Leg Avenue sheer pantyhose offer both long lasting comfort and support making them great pantyhose for any occasion. These classy sheer Leg Avenue pantyhose will make your legs look and feel their very best. For all your pantyhose hosiery needs choose Hot Legs USA your ultimate online source for everything pantyhose.
Leg Avenue Lycra Sheer Pantyhose with built in thong back panty are available in ONE SIZE fits most and NUDE only. Get a pair of these stunning sheer pantyhose from Leg Avenue before we sell out. Order your Leg Avenue pantyhose today.
Leg Avenue Thong Back Panty Lycra Sheer Pantyhose. 85% Nylon, 15% Spandex. One Size Fits Most, available online at Hot Legs USA.

You Found the Ornament!
Enter HolidaySale2014 at Checkout to Receive 17% OFF Your Entire Order!