Buying Pantyhose Last Minute Can Cost You Money, Quality and Looks!
Thursday, October 23, 2014
Buying Pantyhose from Wal-Mart, CVS, Walgreens or Other Retailers Last Minute: Avoid This Costly Mistake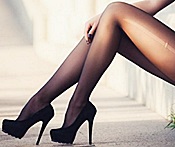 When buying nylons or pantyhose, panic seems to be a much stronger motivator than price. You know what it's like. You're getting dressed for a big night and your pantyhose runs. You have a drawer of nylons, none of which match your outfit. You make a bare-legged drive to Wal-Mart, CVS, Walgreens or another retailer and buy whatever they have.
9/10 times the result is not good. You have to buy whatever the drug store offers, not necessarily what you want. You pay a premium price for a sub-par product.

Buy Pantyhose Online in Advance to Avoid Fashion Emergencies
Your best shot at avoiding a fashion emergency is to buy pantyhose online in advance. You get the fashion tights or pantyhose you actually like, the quality you want and the price you never thought possible.
Our hosiery selection is incredible. Quality and fashion are never compromised, you get a high quality product at incredible prices! Between our huge bulk orders and partnerships with the top manufacturers, Hot Legs USA is able to offer high quality fashion legwear at the cheapest prices. We have leg warmers, dance hosiery, pageantry pantyhose, thigh highs, lingerie, fishnet stockings, plus size pantyhose and so much more. From patterned and lace to classic and colorful, you'll find everything you need right here at Hot Legs USA.
Shop all high quality pantyhose online at affordable prices!

You Found the Ornament!
Enter HolidaySale2014 at Checkout to Receive 17% OFF Your Entire Order!