Sock Hop Sweetie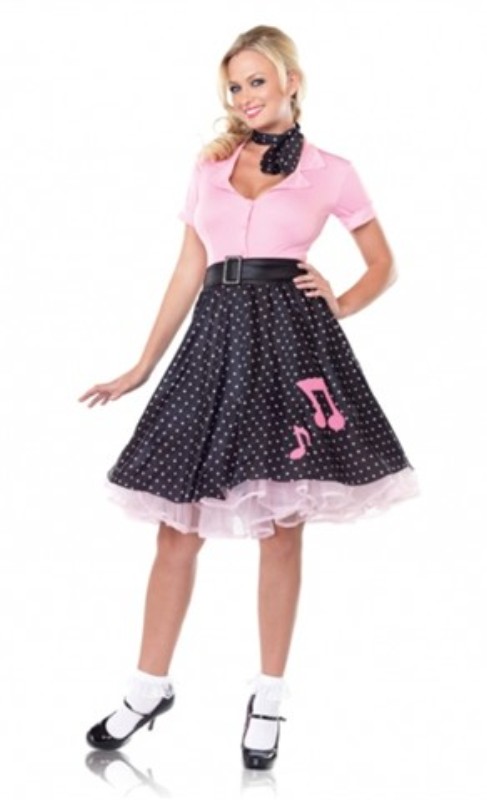 Hover To Zoom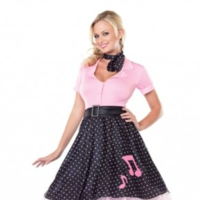 Product Features
Leg Avenue Sock Hop Sweetie Halloween Costume - LA83530
2 Piece Sock Hop Sweetie Halloween Costume includes:
Cardigan dress with polka dot skirt
Attached belt with faux rhinestone buckle
Matching scarf
Shoes not included, Pink Petticoat and White Anklet Socks Sold Separately!
Flash back to the 50's in this Sock Hop Sweetie women's Halloween costume! Get ready to do some high steppin' in a cardigan dress with polka dot skirt, attached belt with faux rhinestone buckle, and matching scarf. Add a Knee Length Petticoat and Anklet Socks to complete the look, and you'll be ready to dance the night away! This women's Halloween costume is the perfect alternative to all the boring, traditional Halloween costumes out there. For the dame who wants to stay sexy while leaving something to the imagination, the Sock Hop Sweetie Costume is a great choice!
Accessories are a must when you've got an adorable, cheap Halloween costume! We have lots of adorable cheap accessories to fit right in with your poodle skirt! First, add a Teardrop Lace Trimmed Petticoat in Pink or Black, which goes down to your knees and will add some extra flair to the skirt. Then slip on a pair of RHINESTONE back seam fishnet pantyhose to really get into the mood of the 50's! You could go with the soft-pink lace and bow topped fishnet knee highs for a sassy sweet version of this Halloween costume, or simply slip on a pair of Leg Avenue fashion anklet socks. Change it up with this cheap, durable women's Halloween costume, sure to get you lots of compliments! Don't let commercial Halloween stores get you down with their high prices - strike a high note with Hot Legs USA, where you can find affordable, cute Halloween costumes sure to fit your form and your budget!