Hot Or Not
See the newest styles on our hot models, and rate them


You gave Michelle a . Her average rating is 5.76 from 40815 votes.
Sherah
Sherah is a model that Hot Legs USA has been attempting to work with since Spring of 2006. Her striking beauty and physique makes her a perfect model for our products. Here Sherah is wearing our Tamara Premium Quality Pantyhose in color Suntan. This image was taken at the Modeling Event hosted by Joseph Armitage.Image taken by Joseph Armitage - Armitage Photography
Sherah is wearing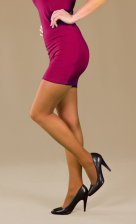 Tamara Premium Quality Pantyhose
View Product

You Found the Ornament!
Enter HolidaySale2014 at Checkout to Receive 17% OFF Your Entire Order!