Seasonal Hosiery Specials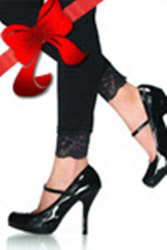 HotLegs USA has the best hose for every season! We have great pantyhose, tights, costumes, lingerie, and other hosiery options for Halloween, Valentine's Day, Christmas, and special occasions. Hot Legs USA is the best source for all your seasonal hosiery needs. For Halloween try our fun stripey pantyhose or check out our Hot Halloween Costumes! If you're looking for something special on Valentine's Day, take a look at Hot Leg USA's premium Valentine's hosiery - the little hearts on the Leg Avenue Thigh Highsare a special favorite! For Christmas let Hot Legs USA dress you up like one of Santa's helpers with our red or green opaque tights - see all our Christmas hosiery products. From Halloween to Valentine's Day, whether you are looking to get creative with specialty print hosiery or just HOT, our standard lines of premium pantyhose, tights and accessories are just what you need to make any occasion a special one! If you're not sure which of our fabulous seasonal hosiery or lingerie products to get her for this special occasion or holiday, try a Hot Legs USA giftcard!No matter what the occasion, Hot Legs USA has the goods to make it feel like a holiday!
Bridal Pantyhose and Hosiery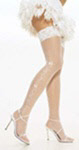 Your wedding day is special in so many ways. You have the opportunity to dress like a princess and be pampered the whole day. It's your day. Stay comfortable while feeling sexy under your dress with a pair of quality wedding pantyhose. Our quality wedding pantyhose and hosiery will survive a whole night of dancing and is sure to make the garter removal extra sexy and fun. Our wide variety of thigh-high stockings and nylons come with various embellishments from lace to rhinestones. No matter if your dress is long or short, you'll find the perfect pantyhose accessory to make your legs as beautiful as you are during your wedding celebration. Hot Legs USA also carries sexy lingerie for your wedding night.
Shop our full selection of bridal pantyhose and hosiery accessories today and find the perfect hosiery for your wedding day.
Halloween Pantyhose and Hosiery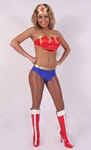 October 31st always promises to bring unpredictable weather. The holiday also brings lots of opportunities to let out your inner child. Don't let the autumn weather hinder your sexiness at this year's Halloween celebration. HotLegs USA carries a variety of pantyhose for this special holiday to keep you warm and sexy for all the spooktacular fun!. Whether it's spider web fishnet pantyhose or thigh highs for fun or opaque pantyhose or tights for warmth, you'll find specialty pantyhose, hosiery and related accessories at HotLegs USA. Hot Legs USA also carries a variety of sexy Halloween costumes to pair with your Halloween pantyhose. You can team up with Hot Legs USA to become a pirate, a Miss Wonderland or a sock hop sweetheart.
Shop our full selection of Halloween pantyhose today to keep your legs from being the scariest part of your Halloween!
Christmas Pantyhose and Hosiery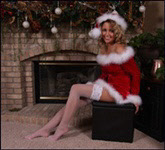 If you wish to get on Santa's list, either naughty or nice, outfit your legs appropriately with nylons from Hot Legs USA. Shop our large selection of pantyhose for your Christmas hosiery. Our wide variety of colored tights, sexy fishnets, accented thigh highs and decorative stockings are sure to show off your legs beautifully while keeping them warm for all your holiday celebrations. You can count on Hot Legs USA to have leggings and hosiery for every holiday of the year so be sure to ask Santa for a few extra pairs of pantyhose under the tree this year. If you've been good he may even include some lingerie and sports apparel.
Shop our full selection of Christmas hosiery and hosiery accessories and make your legs naughty or nice.
Valentine's Day Pantyhose and Hosiery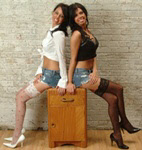 Cupid will strike his target straight on when he sees your fantastic legs accented in beautiful hosiery from HotLegs USA. Our selection of thigh high pantyhose accented with red bows, hearts and lace are sure to make your Valentine swoon. Wear these decorative pantyhose with your favorite little black or red mini dress from Hot Legs USA or select our adorable red-bow accented socks to wear with a pair of leggings. Hot Legs USA carries a wide variety of pantyhose, hosiery, lingerie, costumes and accessories to showcase your legs for Valentine's Day and all year round. Cupid has his eye on you so be ready to catch his arrow.
Shop our full selection of Valentine's pantyhose and hosiery today to make your legs the perfect Valentine's present.
Other Pantyhose and Hosiery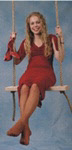 HotLegs USA has all the pantyhose, leggings and hosiery accessories you need no matter the holiday season. Check out our back-seamed rhinestone pantyhose for Mardi Gras or our green tights for St. Patrick's Day. The year is peppered with various occasions and opportunities for you to look your best. HotLegs USA is your online source for your hosiery needs whether it be Easter, Mother's Day, Independence Day, Sweetest Day, Thanksgiving or any other celebration in between.
Shop our full selection of hosiery and pantyhose. You'll have hot legs no matter what day of the year it is.
Hot Legs Shopping Cart
Please review our policies before ordering.
Hot Legs USA Account
Buy pantyhose, shorts, tank tops and more online quickly with your Hot Legs USA account
Sign Up
Login to your Hot Legs USA Account
Login