Group Discount Now Offered At Hot Legs USA
Hot Legs USA now offers new group hosiery sales discounts! Our group sales hosiery discounts are a great opportunity to get your whole team's dance uniforms, cheerleading uniforms, or entire wait staff's uniforms at a great discount hosiery price. Order cheerleading tights, cheerleading socks, and cheerleading tanks for your whole cheerleading squad and receive a Hot Legs USA exclusive group discount. Order sports bar waitresses Hooters style pantyhose, waitress pouches, and Hooters style scrunchie socks for your entire wait staff and receive a group discount. Order dance tights for your dance students or dance shorts for your schools dance team and receive a group discount. No matter what your bulk hosiery needs from 20 hosiery products to 2,000 hosiery items, Hot Legs USA offers the best hosiery prices with our new Hot Legs USA pantyhose group sales discount.
Contact your Hot Legs USA personal hosiery representative, Shane, at hosiery@hotlegsusa.com for exclusive group hosiery sales pricing. Let us know your particular bulk hosiery needs, and we will set up a great group discount based on the product and product quantity.

Hot Legs Shopping Cart
Please review our policies before ordering.
Featured Pantyhose
Put Spring in your Step with Leg Avenue Pantyhose, Stockings and Leggings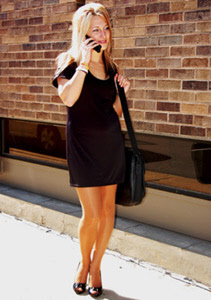 As daylight lengthens and the grass comes back to life, Hot Legs USA is here to help you get into your mini-skirts, summer dresses and skirts early with a little extra leg protection. Leggings, colorful tights and pastel pantyhose allow you to ease into the spring fashion season with style. Count on Hot Legs USA to supply you with a versatile wardrobe of pantyhose for any occasion and any season.
Leg Avenue Seamless Lace Trim Leggings
These lace accented leggings are a cute and practical addition under a mini-skirt or mini-dress. Fabricated with no seams, the Leg Avenue lace trim leggings fit and feel like footless pantyhose while offering more insulation than a typical pair of hosiery. The Leg Avenue seamless lace trim leggings feel as comfortable as yoga pants. The lace trim at the bottom allows you to team the legging with a nice pair of heels and go out on the town comfortably. Pair these Leg Avenue lace trimmed leggings with some of Hot Legs USA's mini dresses or wear alone with a blouse or tunic sweater. Buy Leg Avenue Seamless Lace Trim Leggings online now.
Leg Avenue's New Grey Heather Argyle Tights
Leg Avenue is proud to add the Grey Heather Argyle Tights to their collection of quality pantyhose. These fun patterned tights are perfect for an Easter egg hunt or for any springtime occasion. When you're anxious to get outside in a skirt and wear some pastel colors, put on a pair of Leg Avenue grey heather argyle tights and your spirits instantly lift. Pair these Leg Avenue tights with one of Hot Legs USA's various mini dresses for a bold look. Buy Leg Avenue Grey Heather Argyle Tights online now.
Leg Avenue Sheer Pantyhose
Leg Avenue Sheer Pantyhose in pink are a perfect choice for ushering in spring. These sheer pantyhose smooth your legs while nicely accenting your shape. Wear these sheer pink pantyhose under a mini-skirt or summer dress to match with the tulips of spring. Leg Avenue pantyhose feature a sheer to waist design so no skirt is too short. Pair these pantyhose with a mini-dress from Hot Legs USA or your favorite piece of lingerie. Buy Leg Avenue Sheer Pantyhose online today!
Call Leg Avenue Pantyhose sales specialists at Hot Legs USA 1.855.380.8410 for more information.
Hot Legs USA Account
Buy pantyhose, shorts, tank tops and more online quickly with your Hot Legs USA account
Sign Up
Login to your Hot Legs USA Account
Login